We have now been on the road overseas for about one week. Sufficient to say that the little details that squiggle their way in between people from the states and people over here are beginning to show their necks. Its a breathe of fresh air to find trophies like a greek salad, pita bread and hummus or four kinds of couscous inside many of the gas stations along our routes. I also feel the need to mention they are selling for around $2. I think most Americans would guess couscous is a small beetle found in Australia or maybe in Florida. I am nipped by the fact that most of the showers here are quite awkward and small. I feel as if I am completing my weekend chores as a kid while trying to find out if hot water was just a fantasy of mine or not. The older architecture can be blamed and would also explain the smaller elevators and consistent smell of body odor in the air. A pint is a true pint and people could give two shits who you are before they say hello to you. In other words, we are enjoying ourselves very much.
In many ways we are on a first awkward date with the UK. We have decided to meet solely based on pure fascination with each other. Neither of us know exactly what we are looking for and don't really care. Unsure of what to say we sip our wine and spew nothing by hot air making asses out of ourselves. We'll drink, we'll dance and maybe, just maybe not one of us, but both of us will get lucky.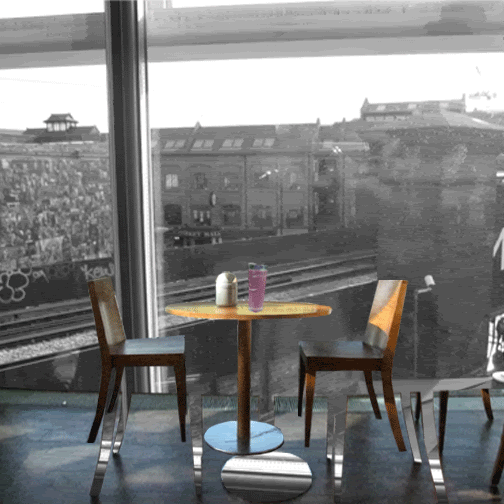 just discovered animation on photoshop...
Making me queasy at the moment:
1. Triangles
2. Space art
3. Rainbows
4. coughing
5. commitment
6. Travelodge bedding
Making me healthy at the moment:
1. Vernon Courtland Johnston
2. skulls
3. bad animation
4. Mark and Spencers
5. ksubi
6. commitment
Andy
Local Natives